Introduction
The Interventional Cardiology training program at the University of Chicago has been in existence formally since 1999, the first year that the ACGME identified Interventional cardiology as a distinct discipline. Each year, the program trains 1 or 2 fellows as part of its accredited program, having trained 14 fellows since 1999.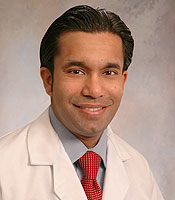 The training program is only open to cardiologists who have completed a three year ACGME-accredited cardiology fellowship program.  At the completion of the 12-month interventional cardiology fellowship, it is expected that the trainee will have the procedural volume, technical skills and cognitive knowledge base to pass the ABIM Added Qualification Examination in Interventional Cardiology.  The guidelines for training are based on the ACC Clinical Competence Statement "Recommendations for the Assessment and Maintenance of Proficiency in Coronary Interventional Procedures" (1998), and the American College of Cardiology Training Statement on Recommendations for the Structure of an Optimal Adult Interventional Cardiology Training Program (1999).  Additional information is available in the document:  ACGME Program Requirements for Graduate Medical Education in Interventional Cardiology (Internal Medicine).
Expectations
The Interventional Cardiology Training Program has as its primary goal to train the fellow to be qualified to independently perform coronary interventions involving various devices and modalities at a level of proficiency to provide the highest quality of interventional care.  Additional proficiency in peripheral vascular and structural heart interventions will also be obtained by the trainee over the course of the fellowship.
How to Apply
A completed application must be submitted through Electronic Residency Application Service (ERAS) and received by the committee no later than December 30th. After we receive the completed application your file will be reviewed and you will be notified regarding the advisability of an interview. Applications must be eligible for certification in Cardiovascular Disease by the American Board of Internal Medicine and must be licensed by the State of Illinois at the time they begin their fellowship.
Visas
International Medical Graduates (Graduates of medical schools outside of the United States and Canada)
Visa Requirements:
J1 Visa (preferred): sponsored by the Educational Commission for Foreign Medical Graduates
H-1B Visa: sponsored by the University of Chicago Medicine – Programs assume all financial cost related to the H-1B visa.
If you have additional questions please contact Melissa Meskers, Education Coordinator, at mmeskers1@medicine.bsd.uchicago.edu.